Our Auto Repair Services
We provide a wide range of automotive services from full auto repair to complete preventative maintenance services. We are also a premier service provider for many makes and models of diesel trucks including light duty, medium duty & heavy duty diesel trucks. Below is a Partial list of all our professional automotive services.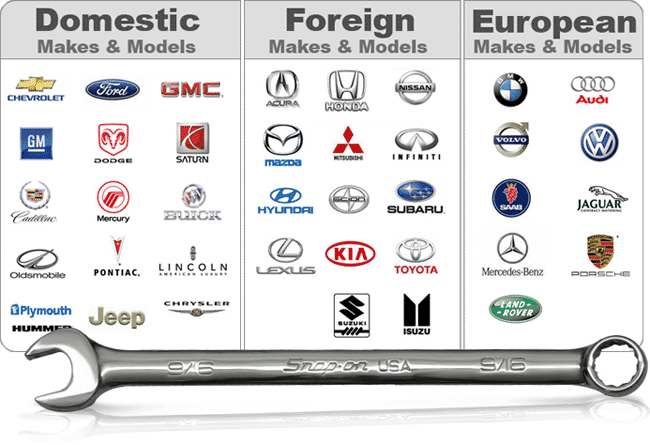 ENGINE, FUEL SYSTEMS, EMISSIONS, & PERFORMANCE
Engine Performance Service (Diagnostics)
Standard & Electronic Ignition Systems
Fuel Injection Service & Component Analysis
Emission Controls
Fuel Pump Service (Mechanical & Electric)
Gas Gauge & Fuel Tank Sending Unit Service
Diesel Injection Service
Throttle Body Repairs & Clean and Service
Vacuum Leaks Diagnosed w/ Smoke Detection
Engine Replacement
Engine Replacement through Major Manufactures
NATIONWIDE WARRANTIES AVAILABLE
Timing Belt Service
Engine Oil Leaks: diagnose, clean, and recommended repairs
Read more on engine performance >
BRAKE SYSTEMS, AXLE SERVICE/REPLACEMENT, WHEELS, & TIRES
Brake Replacement (Disc & Drum)
Brake Calipers & Wheel Cylinders
Master Cylinder & Brake Bleeding
Power Brake Boosters
Hydro-Vac Units (Hydro-Boost)
ABS Diagnosis & Repair
Brake Fluid Flushing
Emergency Brake Repairs
Wheel Bearing Replacement & Repack (when applicable)
Front & Rear CV (constant velocity) Axle & Boot Service
Differential Repairs
Drive-Shaft Service
Suspension Inspection & Service
Wheel Alignment (front & rear)
Wheel Balance
Tire Rotation Service
Power Steering Services
Customer Wheel Service
MAINTENANCE SERVICES AVAILABLE
Oil & Filter Changes
Tire Rotation
Wheel Balance
Wheel Alignment
Headlight Aiming
Transmission Fluid Service
Lighting (bulb replacement)
Windshield Wipers
Belts & Hoses
Vehicle Inspection
Battery Change-over & Charging
Cooling System Flush & Exchange
Engine Pressure Clean
7,500, 15k, 30k, & 60k Mile Maintenance Schedules
Read More On Maintenance Services >
AIR CONDITIONING & HEATER SERVICES
Radiator Repairs & Cooling System Pressure Tests
New Replacement Radiators (limited lifetime warranty)
Water Pump Service
Thermostats
Freeze Plug (Expansion Plug) Service
Cooling System Flush
Coolant Exchange Service
Thermostatically Controlled Circuits
Electrical Fan & Motor Assemblies
Cooling System Re-Hose Service
Heater Service
Heater Core Replacement
Heater Hose Service
Automatic Temperature Control Systems
A/C Evacuate & Recharge Service (w/ EPA Approved Equipment)
Component Replacement or Repair where applicable of a failed component
Evaporator, Compressor, A/C Hose, Condenser, Drier, & All Related Components
We use the proper refrigerants that are designed for the vehicle.
Read More On Heating & Cooling Services >
ELECTRICAL, CHARGING & STARTING SYSTEMS
Computer Controlled Circuit Repairs
Power Windows, Power Doors, Power Seats, & Power Antennas
Cruise Controls
Electrical Shorts
Re-wiring for Harness Damage
Dash Gauges & Related Switch Service
Turn Signals, Flasher, & Headlight Circuits
Window Wipers & Washers
Radio & Related Components. We can remove & take to authorized center for repair & reinstall.
Keyless Entry System & Key Fob Re-Programming
Battery Service
Alternator Replacement
Drive Belt Replacement
Starter Assemblies, Switches, & Cables
Trailer Wiring & Diagnosi
Read More On Electrical Services >
TRANSMISSION SERVICE
Basic Transmission Repairs
Shifter Repair
Transmission Fluid & Filter Service
Read More On Transmission Services >
TIRE & WHEEL SERVICES
Tire Rotations
Tire Repairs
Alignments - Front and Rear
Tire Sales
Tire Replacement
Tire Mounting & Balancing